Frequently Asked Questions
A: Model ChemLab Pro includes the Lab Wizard tool which enables instructors to run, edit, and create lab simulations while the Standard edition enables students only to run lab simulations.
A: There are two types of lab simulation files: a) User-Defined Lab (UDL) files with a *.udl extension can be created and edited by users with a Lab Wizard tool (available with Pro edition only), and b) pre-programmed simulation plug-ins with a *.dll extension that cannot be created or edited by users but are supplied with Model ChemLab.
A: The Lab Wizard is a Model ChemLab tool used to design chemistry lab simulations (available with Pro edition only). Although ChemLab comes with a variety of lab modules, you need not limit your work to these pre-fabricated experiments. The Lab Wizard will translate your experiments into ChemLab modules called User Defined Labs (UDL's) by asking you to supply it with documentation, chemical data and reaction formulas.
A: Model ChemLab comes with a range of pre-designed lab experiments for general chemistry at the high school and college level. Users can expand upon the original lab set using ChemLab's LabWizard development tools, thus allowing for curriculum specific lab simulation development by educators. These user designed simulations combine both text based instructions and the simulation into a single distributable file. Click here for a complete list.
A: Model ChemLab is available for Windows 10/8/7/Vista/XP/ME/98/95, Windows 2000 & NT version 3.51 and higher, and Mac OSX
A: Yes. Model ChemLab is used for distance learning, virtual schools and home schooling. Click here for more details.
A: Pouring and decanting involve selecting a piece of lab equipment, positioning its left side over the receiving container and selecting the decant button from toolbar or decant/pour menu item from the procedures menu or from the right-mouse-button context menu. If the pouring object is not directly over the receiving object, the contents will be suspended. Note: liquid is transferred first in this process to allow separation.
A: There are print options settings for selecting which documents are printed. Goto the Options menu and select from the printer options the documents you wish to print, prior to printing. The default is to print the observations and lab window.
A. Yes. Model ChemLab is available both on CD and Online.
A. There are a number of reasons why your buret may not work:
The buret must be correctly positioned above the container into which you are titrating; it cannot overlap.
The buret must have some contents.
You must open the stop-cock using the titration dialog and that dialog must correspond to the buret you are using. If you label the buret; the label text will appear in the Titration dialog's title.
The container you're titrating into must not already be full.
It should look like this: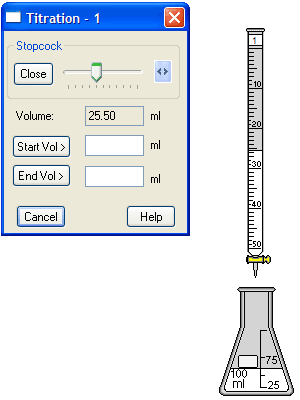 A. You need to combine the conductivity meter with the container with your solution to obtain a measurement.
Select both the Conductivity meter and container with solution you wish to obtain a measurement from.
Right mouse click in the selection rectangle then select the "Combine" menu from the pop-up context menu.
Conductivity meter should appear to be combined with the container.
Use the remove menu option to remove the conductivity meter from container.
It should look like this: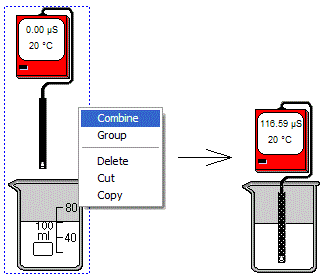 A. The Filter is the 'Buchner Funnel' menu option in the equipment menu. You can add it to an Erlenmeyer flask by selecting the flask and using the Buchner Funnel menu option (right-mouse-click context menu). You can remove it by doing the same again; this will display a dialog box that allows you to place its in contents into another container. You can also just use the Tool Bar (Buchner Funnel) button with nothing selected; this will add a flask with a funnel already added.
A. The CD also includes download instructions for Windows and Mac OS X. Open the CD booklet and follow the instructions inside. You will need to enter the code that is located on front of the CD.
For an online demo, Lab Wizard user guide, marketing brochures and other documentation see the ChemLab Documentation page
Registered ChemLab users can obtain technical support by contacting us by email at: info@modelscience.com or by phone at: (519)570-0335.